2021 IBR Ė Day -2
Gathering of Old Friends
I like the early days of the week before the tech inspection begins and the pressure starts to mount. Riders, staff, and spectators gather in small packs and get familiar with each other again. They reach out and help each other with final preparations. It is always amazing how close this community has been throughout the years, and when we have the chance to stop and stay for a while it can be quite a beautiful thing.
<![if !vml]>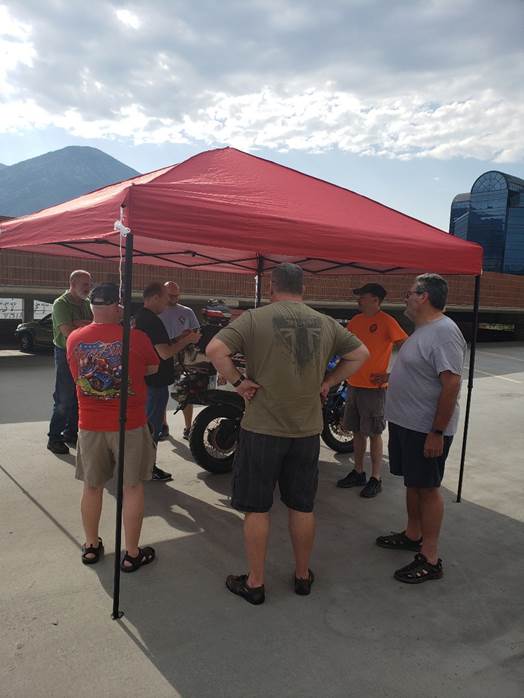 <![endif]>
The pandemic kept the usual long-distance events from happening during which riders would have had their aux fuel examined and other checks run prior to showing up at Rally Central. This year is different, in so many ways. Extra checks were scheduled on Friday before the official Saturday tech inspection, with Dale Wilson ensuring stable installations and Brian Roberts testing aux tank volume and non-OEM mufflers. Even THAT was pretty much uneventful as Brian only had to pull out his hygrometer and scale to weigh gas for one rider this year. Another needed an escort to the local gas station to validate their adherence to the 11.5-gallon limit.
Right now, the hotel lobby is stirring with riders greeting each other and renewing old friendships but tomorrow will dawn a new day. Staff meets early Saturday morning as it is their rally day and all hands are on deck. These are people, many of whom are rally veterans themselves, who have been giving their time for years for the benefit of the riders who have followed in their footsteps; I think of it as paying it back for those who helped when we were kids.
Riders start with in the lobby of the hotel, signing their AMA waiver and then picking up their Checklist packet. In no particular order after that, they visit various stations around the hotel to complete their other tasks.
In one meeting room, they were greeted by Donna Fousek and Karen Van Santen who handed out the rally swag and distributed banquet ticket bracelets.
The riders are required to complete tech inspection of their motorcycle and associated documentation (license, registration, insurance). Tech Inspection Team:
Tech - Dale Wilson
Sally Cole White
Chuck Hickey
Brian Roberts - fuel, sound
Doug Chapman
Jerry White
Participants certify their odometer by running a set route and having the result recorded by:
Tim Masterson
The following volunteers make sure ridersí cameras are set up to properly record their bonuses:
Dave McQueeney
Tobie Stevens
Ira Agins
Each rider records a short video (All right Mr. DeMille, Iím ready for my close-up) with:
Dennis Bitner
Roger Van Santen
Lisa Stevens
Bob Rippy
Kay Rippy
Chris Sakala and Jason Jonas make sure all the riders have a satellite tracker and it is properly pinging. Chris is also responsible throughout the rally for monitoring that data. Jason provides the Spotwalla system and is a big help in making sure everything is going well with that tracking system. He is also the one who provides some of the ďmoving spotsĒ graphics that Iím sure will be showing up sometime in the next two weeks.
The document verification team records MedJet info, odometer form, emergency contact info, and mailing label detail from each rider:
Jim Fousek
Cathy Davies
Ed Otto
Bill Thweatt
Final Check-In is the last step to enter the rider into the scoring computer and welcome them to the show:
Jeff Earls
Michael Kneebone
I apologize for any volunteer I missed but that is not even the end of it for those I mentioned, not by a long shot. I watched the Fouseks stuffing rider packs today. Dennis Bitner and Tim Masterson will be running around the country chasing riders. Several of these volunteers also do double duty in scoring (Lisa and Tobie Stevens), others answer rider questions year around (Ira Agins) and others just quietly keep adding grease to the skids that make this whole operation possible (the Fouseks, Dave McQueeney). All these people are selfless, reliable, and many have been doing this quietly for years.
The day has NOT been without some drama. Ken Andrews had to run a sound check several times to verify that his HD Road Glide could keep the noise level below the standard required. The concrete walls of the parking structure played havoc with the sound meter. The test was moved outside to an open space and Kenís bike passed. Another HD rider, Eric Buskell, spent time securing a loose auxiliary tank before being allowed to pass tech inspection.
<![if !vml]>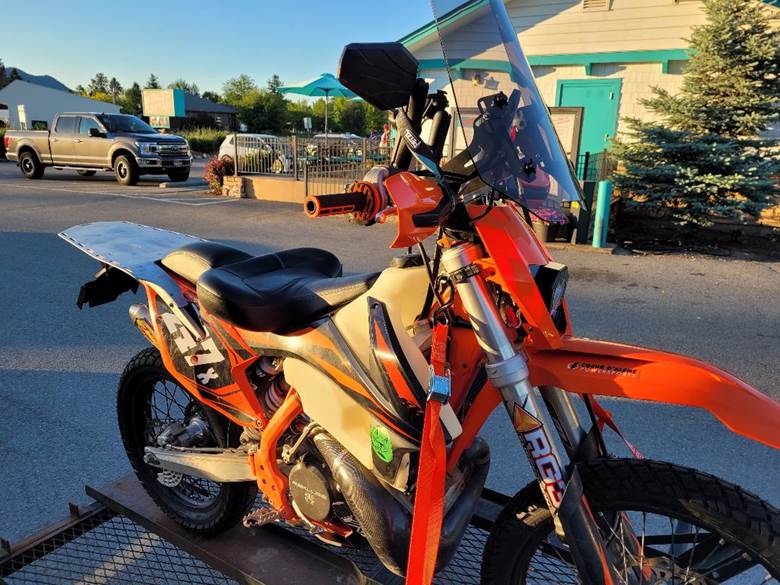 <![endif]>
This is far and away one of the most unique bikes entered ever in a Rally, a KTM 300 XCW-TPI. Unfortunately, this morning its rider was headed back home to Idaho because the bike was just way too tall. He had just picked up the bike from the dealer the night before after an extensive amount of work and had no saddle time on it. No amount of convincing from Mike Kneebone or Lisa Landry would change his mind and homeward he went. Local IBR entrant, Jon Kerr, who happens to own and ride two of these bikes, heard of the problem and came to the rescue. He immediately called the rider, offered to help him make the bike rideable with some suspension and custom seat changes as well as shop space at his home. In no time, Jon had him turning around to give it that good old college try. Afterall this IS a college town, this is the Iron Butt Rally, and the rider is Michael Boge. Michael has been in rallies by himself, with his daughter and wife in their family sidecar, and now is attempting to ride a rally on a 2-stroke KTM 300.
Also on the list of unique rides is Kurt Wordenís Kawasaki VersysX 300.†
<![if !vml]>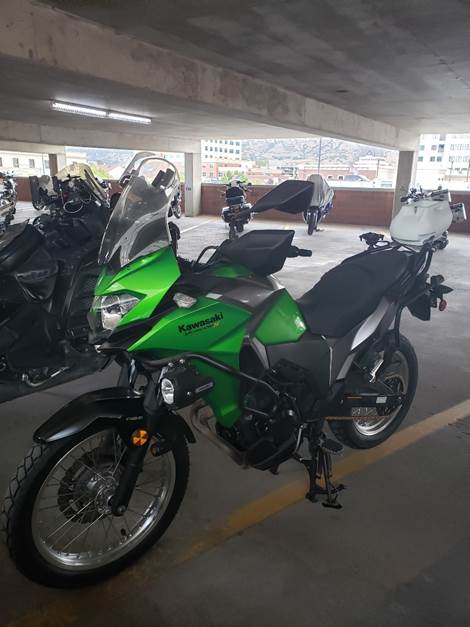 <![endif]>
I had to take a second look as the bike is really stripped down compared to all the others in the lot. It looks for every part like its larger brethren, but it only has a little 300cc heart. Iím pretty sure Kurt can muster that thing around the USA for 11 days.
We have a lot of Harleys this year entered in the rally but there is only one HD Panamerica, ridden by Jim Hampshire. If you have not seen one of these, look it up. It is a brand-new offering from Harley and is NOTHING like any Harley ever built before.
† <![if !vml]>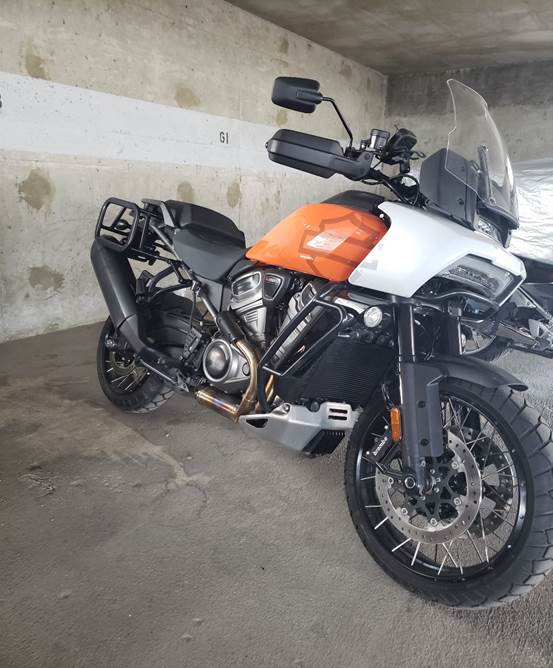 <![endif]>
This bike is so new Jim has had little time to prep it. He is running without aux fuel and only has accommodations for a single GPS on the bike handlebars (oh the horror!).
Tonight will once again feature a Saturday night banquet for the riders. Normally Saturday night was where riders would team up with their old friends for a last meal and go in smaller groups to their restaurant(s) of choice, but tonight everyone will be together before things get downright serious on Sunday. The Last Chance Dinner is now tradition.