2021 IBR – Day 9
 Give Me Some Elbow Room
I want to acknowledge a rider who was added to the DNF list yesterday. It is never a fun place to be, but Lionel Ramos has been let down by his bike. He was working hard to get to the Huntsville checkpoint when his bike cut out near Asheville, NC. Passing riders Jon Kerr and David Uhl stopped to assist him and managed to get the bike running. That was for naught as it continued misbehaving and he realized he just could not nurse it even to the checkpoint. A postmortem revealed that an oxygen sensor came loose. The joint where it connected to the head was stripped out so reinstalling it was not going to hold. We are sad for Lionel but know he's planning to join everyone back in Provo.
Our parking lot spies reported a discussion with George Levar that I thought was very revealing. Milling around his bike about 9:00 am, he said he was going to wait until noon to get the photo bonus at the Space Center right behind the hotel. He had a plan, it was low stress, he had baked in in some rest and was set on carefully "finishing". I put this into my category of "making good decisions". Good on you George, you're currently in 60th place and stand a good chance of earning that coveted three-digit number. George has run an efficient rally based on points/miles; just keep doing what you're doing and maybe some extra for a cushion. Over 20 riders took advantage of the points afforded by waiting a few hours to ride 500 yards to the base of the Saturn rocket and take a photo. Several mentioned their appreciation for the opportunity to get a little more rest at the hotel after the bonus packets were distributed.
This really points out that different riders have various strategies and hopes for the rally. Many newer riders' goal is to safely earn their three-digit number, and we get that. Once they've attained that, riders often feel free to attempt a massive ride that might place them on the podium but could just as easily end in a DNF.
A couple of nights ago while Michael Best was sleeping at the Iron Butt Hotel he was awakened by a huge explosion. He looked toward the other end of the rest stop and saw this: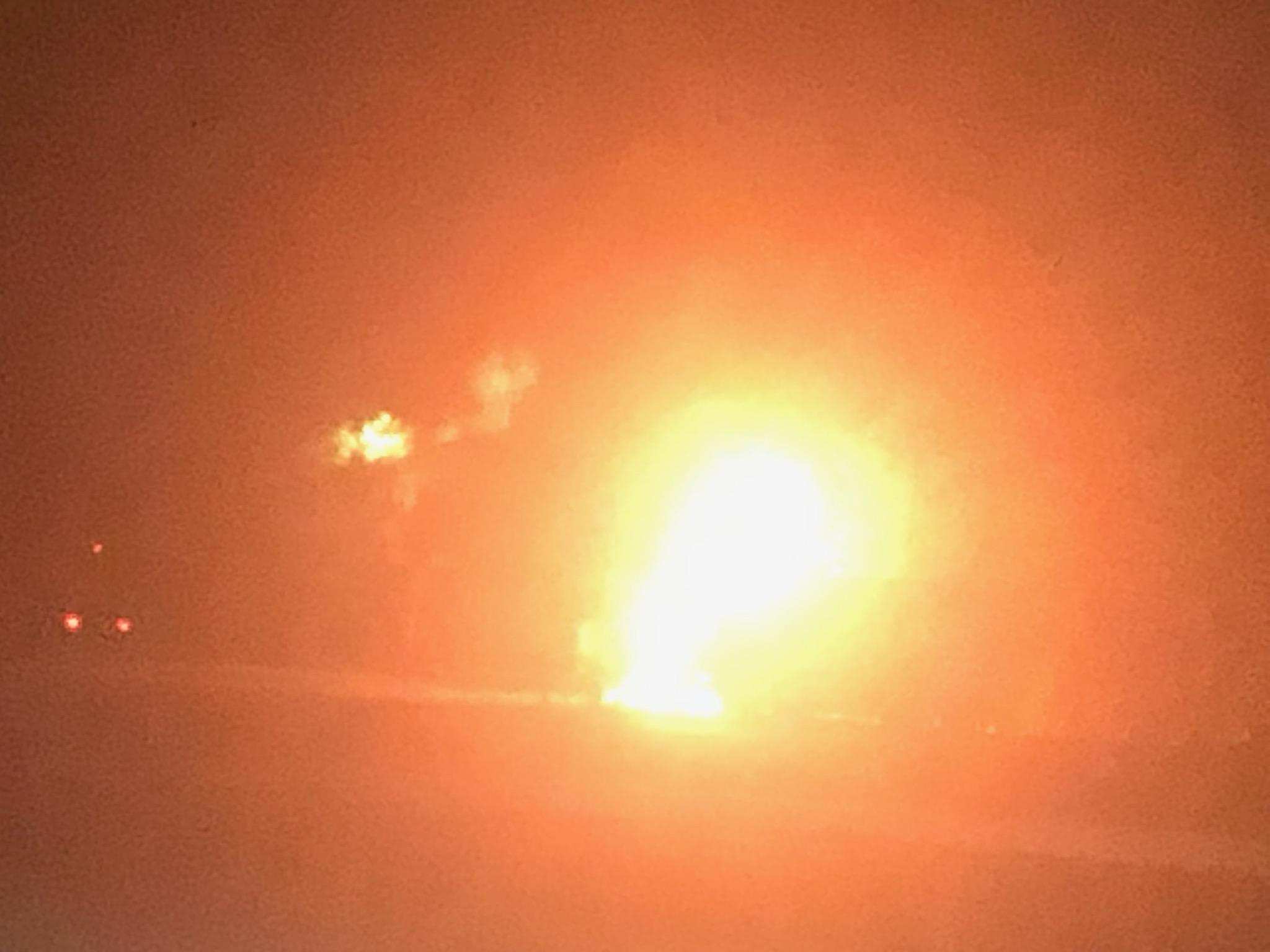 .
A truck had exploded and Michael did what he could to inform authorities and render aid. This morning while I was looking at the public spot page for our riders, I felt like I was seeing an explosion of riders. They were all over the map, headed literally in every direction. I'm sure Rallymaster Earls is wringing his hands in delight as there doesn't seem to be any one generally-accepted solution to his puzzle.
Before the end of legs 1 and 2 I reported what the basic path of the riders had been, along with some "general" reasons why. After each leg is over, Jeff and Lisa release the Leg Bonuses so you can armchair rally to your heart's content, but I don't want to interfere with riders' plans by giving out information about which bonuses any rider might be doing. I'm sure readers appreciate that we cannot give anything away that would affect riders' ability to perform their task unhindered. After all, it is their rally.
This leg will be different. It was a starburst of riders heading in all directions from Huntsville and there are myriad possibilities for the finish of this Iron Butt in Provo this Friday at 10:00am (penalty time starts at 8:00 am). There are a bunch of bonuses on the west side of the country. When they get there and how much time they set aside to collect them depends on how enticing Rallymaster Jeff made it for them to stay east of the Mississippi collecting bonuses there. As fatigue begins to wear down riders in Leg 3, the Rest bonus is bumped up to 18 points per minute. That offers more than 8600 points for an 8-hour rest, more than enough to convince these tired riders that sleeping is a particularly good strategy for this leg.
Meanwhile the wheels are coming off, or maybe we should say the chips are failing. KTS' laptop died but she is soldiering on. Anybody who has rallied since about 2003 knows how much of a handicap that is. Scott Madson's only camera is on the fritz and his backup camera is safely stored in Provo. Oops. Lisa gave him the options to use his cell phone or purchase a new camera. His plan is to switch to his cell phone, then transfer all his photos to the memory card via his laptop. What could possibly go wrong? Bob Bowman, after two strong legs, has been experiencing flu-like symptoms and is holed up in Wisconsin hoping they pass. Staff was disappointed to learn that Angelo Patacca had to withdraw for family reasons. Tom Spearman has also notified the rallymaster that he has withdrawn from the rally.
This is the time in the rally where luck, skill and preparedness collide. We'll see who has adequately prepared and has good luck in their pocket as the riders try for a strong finish in Provo.