2021 IBR – Day 1
Just another day
Today started out like any other summer day in Provo – sunny and hot. There are on average 222 sunny days here in Provo annually, so this is to be expected. The mercury today will tickle 95 degrees and Mario Winkelman is out front describing how to properly use his LDComfort clothes to achieve the best evaporative cooling. Anything for rider comfort, that's our Mario.
The Marriott Hotel and Convention Center in downtown Provo is buzzing with activity as 75 riders and 6 pillions scramble around to fill their hydration tank with water, their stomach with a last good meal and their head with certainty.
One of the reasons I was always attracted to the Iron Butt Rally was because of the self-reliance and personal responsibility that is required to participate in these events. I saw Michael Boge sitting outside the Riders' meeting yesterday waiting for his "special" acknowledgement for being late. Mark Crane and Eric Jewell were famous for showing up after tech inspection, causing the staff to create the Jewell/Crane Rule where if riders did not check-in on Saturday they had to show up promptly at 7:45 am Sunday morning. Yes, these restrictions may seem small and sometimes even petty, but this rally runs on a schedule you are required to meet. Personal responsibility is a critical skill set of long-distance riding. When you leave the parking lot there's a lot more than points and a little embarrassment resting on your decisions. It does not mean the riders aren't having fun; they just need to get the correct mindset right away because there are "no safe spaces" when you're on two wheels.
<![if !vml]>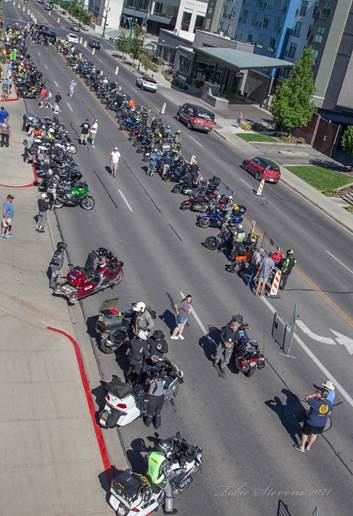 <![endif]>
At 7:30 all the bikes were in the impound lot and positioned for the start.
<![if !vml]>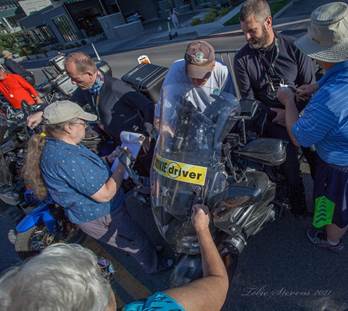 <![endif]>
At 8:00 am sharp the riders were at their staged motorcycles on 100 N in front of the hotel (if you are not in place by then, you will leave last) to have their odometer read by the tech staff so that a proper mileage for each can be calculated upon their return 11 days from now.
I spent some time chatting with riders and what I found really surprised me. They were remarkably calm and settled.
<![if !vml]>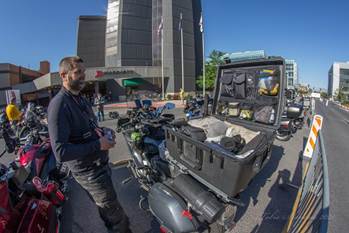 <![endif]> 
Neatly Packed
<![if !vml]>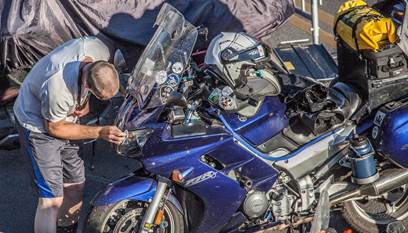 <![endif]>  
A Final Polish
Most of the riders told me they got a full night's sleep and really were not second guessing their decisions, but two riders stood out from this serenity. Jim Owen said he had hardly slept at all and started to reroute immediately after he put his head down to sleep. He assured me he was not second guessing, just "reimagining" his route. Wendy Crockett optimized her route 6 or 7 times before settling on a path forward. Many riders stayed cagey when asked about their plans, looking sidelong at others hoping to catch a glimpse of what their competitors might attempt.
At exactly 10:00 am Dale Wilson started at the back of the concourse and signaled the first bike, ridden by Danny Dossman in memory of Tom Loftus, to take to the street.
<![if !vml]>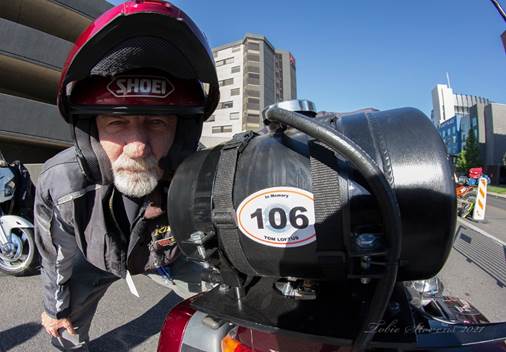 <![endif]>
Danny Dossman with the ST1100 formerly ridden by Tom Loftus
Dale then signaled each successive rider to turn their bike into the direction of travel and exit the lot. Bike after bike, they paraded down 100 N westward towards I-15 with their police escort. A picture of perfect execution, the lot was emptied in 3:23 minutes. This was the start of the 2021 Iron Butt Rally.
<![if !vml]>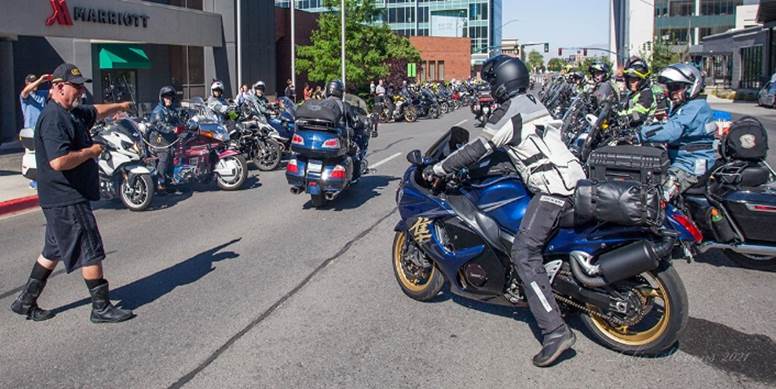 <![endif]>
I purposely have not perused the bonus list so I don't talk out of school accidentally, but Rallymaster Earls did relay to me that there are 19 destination bonuses plus 3 bonuses that you pros would call FREE POINTS: call-in bonus, rest bonus, and tracking bonus. Then there are 49 rallywide bonuses that are all over the country, so many of those are not on the general path to the first checkpoint at Carmel, Indiana.
This list is a little more condensed than some are accustomed to, so I think it leads to more certainty in rider decision making. They can settle easily on a path that includes the number of miles they want to ride and the number of points they have been told will be needed to keep a finishing pace. The question for riders seeking a podium finish is how much more to bite off and how far off the path to Carmel do you want to get. They must also weigh the energy they would expend this early in the rally against the unknown of what is to come on the later legs and having a reserve of energy to meet that challenge. They know this is not a sprint but a marathon, but they also know there are some competitors capable of running the equivalent of 4-minute miles for the duration of this 11-day event.
The riders will take to the road with many opting for a group picture bonus scheduled a few hours into the rally. At this location they will meet staff members Dennis Bitner and Tim Masterson for one of their first bonuses of the 2021 rally. By that time, the jitters should be gone and the reality of the task ahead of them will be settling in.
<![if !vml]>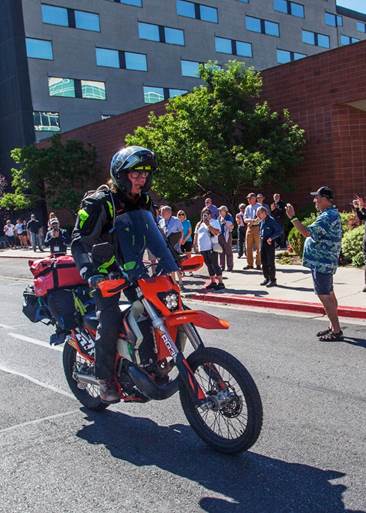 <![endif]>