2021 IBR – Day 10
 Where are those kids!
It is getting late, and things are happening.  Lisa got an unexpected call from Andy Mackey who had run into a deluge in New Mexico and was definitely discouraged. That is not like Andy; this is a person who doesn't own a car and uses his motorcycle for everything, he has finished 4 IBR's, the last 3 with silver finishes, and sure enough he just needed a few words of encouragement. Same thing happened to Doug and Liz Jacobs. Faltering in the standings and faced with a daunting task, they were questioning their rally strategy. They too were encouraged by a firm but understanding rally mom. As always, there were the calls about a missing sign for a bonus, for the washed-out road, and from the umpteenth rider who didn't read the bonus instructions before calling (oh, that makes Lisa especially happy). 
Bucky Dent has three solid IBR finishes and is a long-time veteran of many rallies. He faltered a little on leg 2, falling from 34th to 55th position. That is a long fall, but my guess is that Bucky had a leg that didn't go right, and he has the fortitude to keep doing his best as he has always done.
Then there was the call from Bruce Edwards who had been the victim of a hit and run. He was sideswiped, the bike went down, and the offending party left him laying in the middle of the road. He received some assistance from passing (non IBR) riders and is OK, but his bike is too damaged to carry on. He informed Lisa that he was out.
This year Eric Buskell is quietly turning in a respectable rally. Eric is a Hoka Hey veteran and you might remember him from 2019 when the internet watchers nicknamed him "Homer" for all the time he spent up on the Kenai Peninsula in Alaska before his drive belt failed and he couldn't repair his Harley Davidson in time to get back to the finish. This year, rally staff has nicknamed him "Go-Bus-Go" because his call-in transcripts describe him as such. He is putting a solid rally together and stands in 42nd place while gathering more bonuses on the last leg.
Staff saw Marty Cover, his teammate/daughter Lisa Rufo, and Ryan Rahjes all at the 2nd checkpoint. Ryan had finished scoring, turned in an incredibly good leg standing in 25th place, and looked good to go for the final push to the finish. Marty and Lisa were in great spirits and seemed to be having a good time. Don't kid yourself, Lisa is all sorts of serious so it's good she and Marty are together so sometimes they remember this is about fun (they were laughing during scoring).  They're sitting in 46th and 47th with the same score (Lisa has fewer miles, or is better looking, or both).
Meanwhile, Mike Heitcamp sits quietly in 9th place. Mike is a product of the old Team Strange Minnesota Wrecking Crew. They have provided much entertainment over the years with their themes like "Ride harder not smarter" (hilarious, but not wildly successful) and "Total World Domination". Mike is having none of those shenanigans this year. He's already finished 3 IBR's with one silver finish and 2 gold finishes so he is not to be trifled with. He is riding a Mark Kiecker type of rally (check the IBR History pages) and sticking to the leader board, just like Mark did (except Mark was famous for pushing a VFR around the circuit AND being the only rider whose phone number was blocked by Landry). Maybe we can also get him to fab a clutch plate out of a coffee can lid on the playa. Good times.
Also at the top of the leaderboard is Steve Gallant. Steve had a gold medal finish in 2019 so he knows what it takes in the late days of an IBR. Another rider of note is Marc Beaulac who is astride a new Wing after he wore out the old one he rode on 3 prior IBRs (gold in 2015 and a silver in 2019). He looked surprisingly good at the checkpoint in Huntsville and now the rally is turning to the part of the country he knows best (ok, it isn't Canada, but he has been living in Phoenix for a long time).
Tom Southwood is back to rallying after a long hiatus. I didn't recognize him without his old Triumph Triple. Now he's on a Harley Davidson Road King. He had a big Leg 2, moving up 15 places to 43rd.  He has not finished an IBR but has been around for a long time. It looks to me like he just needed to get his rallying legs back underneath him. I'll be looking to see if he can make a push and get that three-digit number and maybe even a medal finish.
Lew Ballard is a quiet guy riding a Harley Davidson Ultra and he's putting in a nice run. He moved up 11 places to 27th on Leg 2 and a good push will possibly put him into the medals.  Another big mover on Leg 2 was Gerry Arel. He is one of our youngest riders and he's riding a nicely appointed FJR. With over 32,000 points on Leg 2 he jumped up to 48th place from the bottom of the pack in 69th, a move of 21 positions. That is how it is DONE young man, no quit in you!
I can also report  that Steve Snell ran into charging problems with his Wing in Florida.  Being a 2019 finisher, he knows what it takes to be a finisher and he did not give in. He managed to get  Panama City Honda to set a battery outside their soon-to-be closed shop. The tow truck gave him the needed jump start, he rode  to the dealer, replaced the battery in minutes and is back on the road.
This leg has some big combo bonuses and most of the riders have these in their sights. Still sitting out there is the rallywide combo bonus with the Wright Brothers' shop and their marker on Kill Devil Hills that riders have been working on since the rally start. The astute rider just might pick this up while others look westward. Here are Daniel Wallander and Marc Bialt showing how smart they are by getting that combo bonus late in the rally. Even better, this photo was taken by none other than Jim Frens who holds the rally mileage record of 14,185 miles in the 2011 IBR. Jim has since taken his endurance skills onto the high seas to race sailing boats. You just cannot keep a good man down.
<![if !vml]>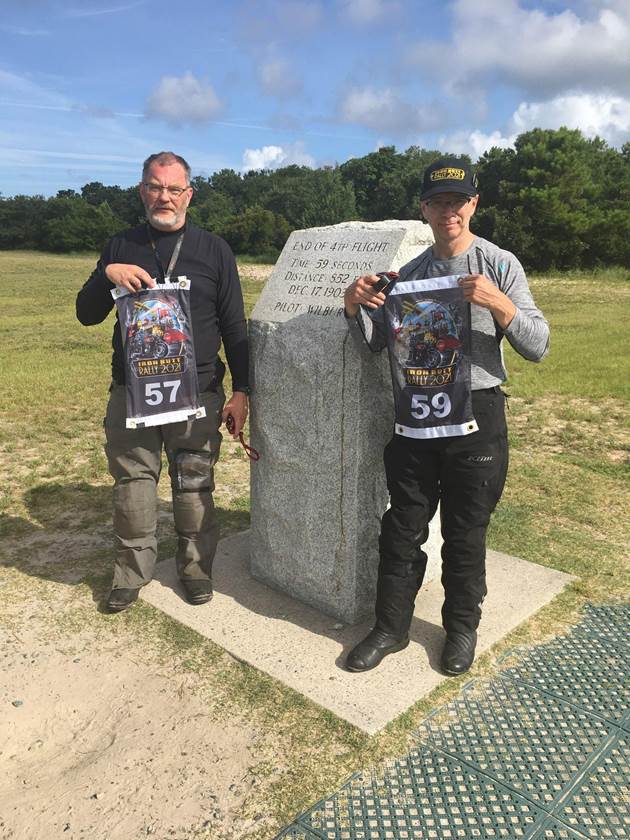 <![endif]>
Marc Bialt (right) and Daniel Wallender (left) at Kill Devil Hills
Our group bonus for Leg 3 didn't have the same attraction for the riders as the other two did. Riders have a lot of ground to cover and points to make up. It was reported earlier that George Levar "had a plan" and it appears that he is sticking to it (Somewhere in the IBR archive of wisdom is says, "make a plan and stick to it"). He did indeed show up for the bonus as did our ever diligent photo volunteers Dennis Bitner and Tim Masterson.
<![if !vml]>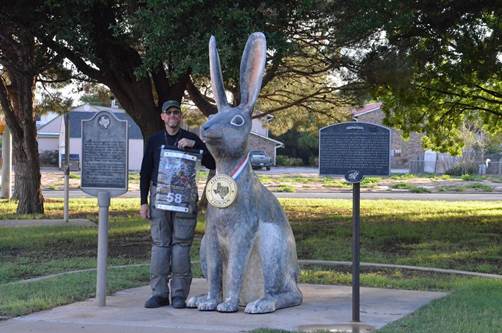 <![endif]>
George Levar makes a Group of 1 for the Odessa Group Photo Bonus
Meanwhile I had a Zoom session with Rally staff today and after a day to catch their breath they have returned to Indianapolis, turned in the rally van, and tomorrow will sprout wings to fly back to Provo for the finish. They are fit and ready to hit the home stretch.
<![if !vml]>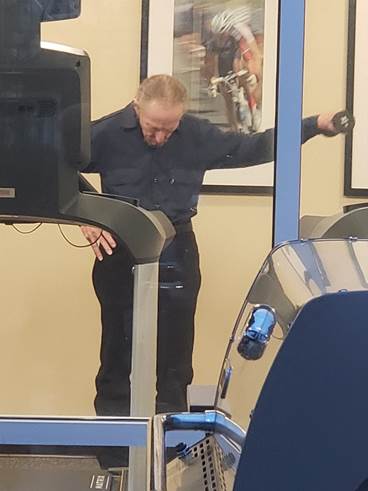 <![endif]>
Dave McQueeney, ready as always for anything.