2021 IBR Ė Day 5
†It's all about the points.
It is an unavoidable fact of the IBR that things will go wrong, causing people to regret decisions that leave them hanging out there on the ragged edge. The first victim was Todd Lipps: he was running a great leg, feeling good, and his bike just let him down. It would be shocking if that is the only one over these 11 days, as we are running well below historical norms for mechanical failures.
Paul Meyer and Jim Saul both went to the Florida Keys. Jim Saul took a direct route to Florida from the start and made the checkpoint with plenty of time to spare. Paul went to Nevada and swept up the big bonuses along I-80 all the way to Reno and Dayton, Nevada before he made a 180 and headed to Florida. Paul entered the Keys when Jim was exiting. Struggling north through heavy traffic in Atlanta, with Nashville, and Louisville still in his way, he called in to say he wouldnít make the 10pm deadline. He pulled into the hotel lot around 11:30pm, late but safe.
The Handleys devoured Nevada and had a lot of points in their sights but may have reconsidered their choices when they smelled the salt water of the Pacific and realized that they had perhaps bitten off more than they could chew. They turned around and headed east on the most direct route to the checkpoint some 2,400 miles distant. On the way back they discovered that their rally flag was missing. They backtracked to the last location they knew they used it and had spent an hour or so looking (dumpster diving) when Karen decided to ask a landscaper who was working across the street if he had seen it. He had found it, rolled it up, and put in his truck. $50 later for good will they had their flag back. They made it to the checkpoint before the penalty window, which would have cost 10 points per minute in the 2-hour penalty window (maximum 1,200 penalty points), or even worse, a DNF. Deciding to turn back for the flag and to pay the $50 proved to be good decisions.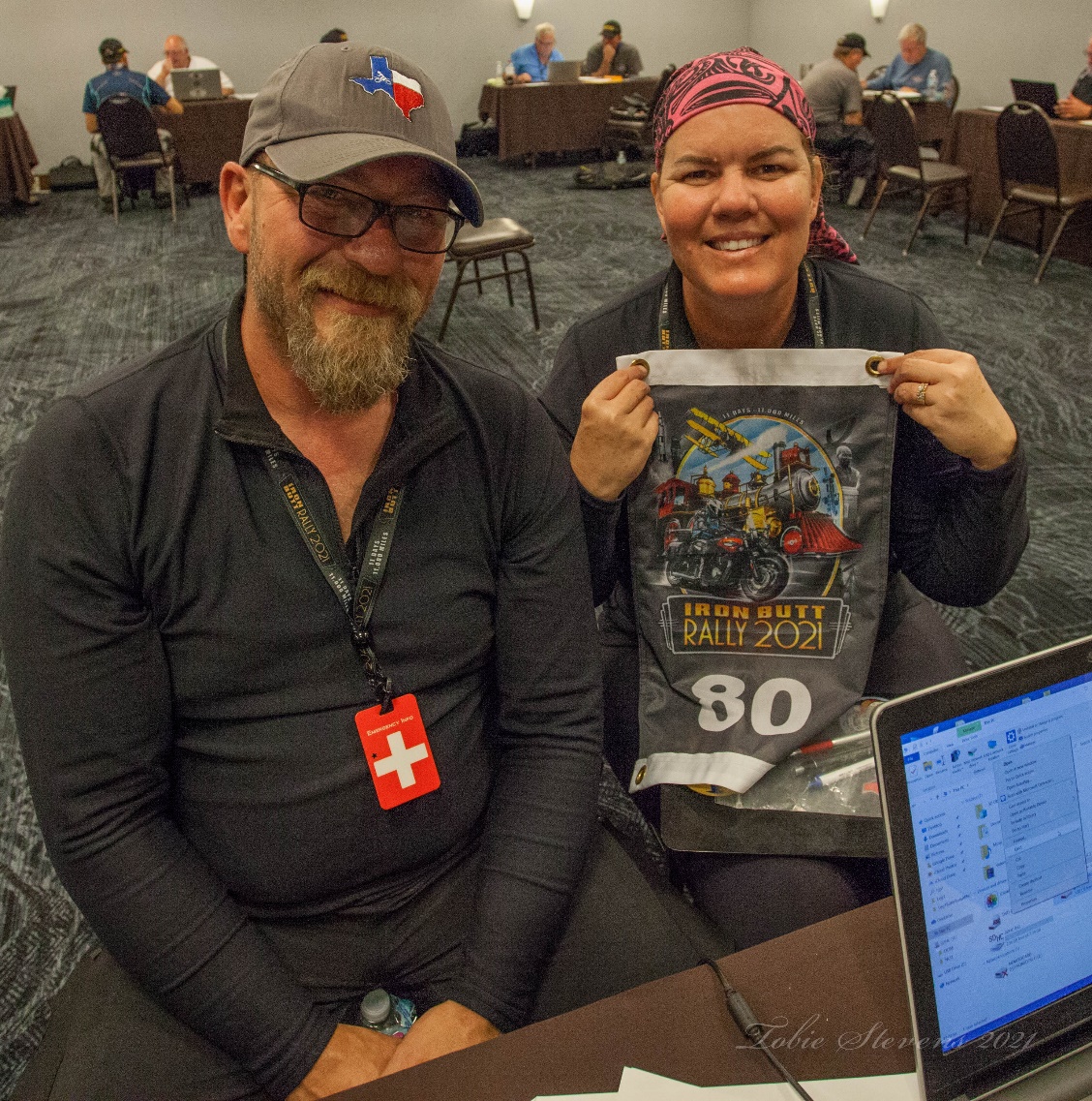 Chris Comly swept Nevada then retraced his steps to Salt Lake City to start the northern swing. That extra 1,000 miles to and from Reno took a toll and he arrived at the checkpoint 5 minutes into penalty points. Meanwhile, Chris Purney also went through Nevada and ran north to Oregon and Washington but lost his struggle to get through Wisconsin and Chicago (always a difficult task) in time. Veteran Marc Beaulac ran a similar route and clocked in 10 minutes into the penalty period, but he looked fresh, and I saw him laughing. Mike Riley realized as he arrived that he had left his flag attached to his last bonus some 80 miles away.† He turned around to get his flag (which carries a stiff penalty when lost) and ended up in penalty time at the checkpoint, the last rider to check in, stopping the clock at 8:30pm. Thatís one way to learn a difficult lesson. By contrast, the first rider in was rider #58, George Levar who made it to the hotel by 1:30pm.
From the SPOT public page and the rider scorecards you can see several general routes taken by the riders:
<![if !supportLists]>1. <![endif]>The direct north route starts with the Golden Spike and then loops back through Montana, across the Dakotas and then down through Wisconsin, with most then running into lower Michigan. They were targeting a treasure trove of big bonuses (over 500 points each) including the Golden Spike in Utah; Rigby, Idaho for TV development; an experimental breeder reactor in Arco, Idaho; Dillon, Montana for an electric gold dredge; the Houston House in West Fargo, North Dakota; a Minuteman missile near Monarch, Montana; first greyhound bus in Hibbing, Minnesota; the first snowmobile in Wisconsin; the first home-built flying machine in Wisconsin; the first vitamins in Madison, Wisconsin; the first roadside picnic table in Saranac, Michigan; and the first police radio dispatch in Belle Isle, Michigan. You can see why so many chose this target-rich route.
<![if !supportLists]>2. <![endif]>The second-favorite route headed into Nevada where there were good points for the first common air carrier in Elko, Nevada; the first gold strike in Dayton, Nevada; and the invention of Blue Jeans in Reno, Nevada. That run through Nevada was worth about 4,500 points. From there riders normally headed north or south along the coast.†
<![if !supportLists]>3. <![endif]>The west coast southern run included a big bonus in San Diego for the creation of WD-40 for 1600 points (we should all go pay homage). From there riders made a run across the bottom of the country, sweeping up big state bonuses through the southwest and southern states. The tempting bonus to complete this run is in Cudjoe Key, Florida for the first overseas highway and 7702 points (available only on this leg).
<![if !supportLists]>4. <![endif]>Those who headed to the Northwest were drawn by the Exploding Whale bonus in Oregon and the Boeing bonus in Seattle, Washington, together worth almost 5,900 points.
Riders could add on to these basic routes if they routed efficiently. There was a huge bonus in Buffalo for the first Chicken Wings (3,400 points) and some smaller bonuses near the checkpoint, a gut check to see what you had left in your tank.
There is still a huge combo bonus out there for the riders which we will talk about later, but some riders obviously have that in mind. Only the next few days will tell who can capture that big combo and if the points are as big as they look at this point.
A large group of riders took a modest bite at the apple and just did a nice loop into our target-rich northern loop, #1 above. It was no wonder that so many riders seemed at ease at the start with this plan: make sure to get the tracking bonus, the call-in bonus, and the rest bonus for a total of 4,880 points, then hit all those obvious bonuses for an additional 12,000 or so points. Iím not saying Iíve evaluated any of these routes for timing and distance, and I am SURE that I could not do ANY of this. Iím just trying to describe why riders most likely made their choices Ė itís all about the points.
Hereís a tough decision: can you trust that your bonus collecting process will protect against dropping points in scoring if you collect a lot of easier but lower-value bonuses, or should you ride big miles to carefully collect one huge bonus. Lionel Ramos chose the former but forgot to put his motorcycle in the photo for the Anchor Bar in Buffalo and missed a painful 3,400 points. This is a common error. The riders leading the pack after leg one bear scars that remind them to collect their flag, follow bonus instructions, and mind their limitations. I bet Lionel never again forgets to read the bonus instructions twice and will be a better competitor for it.
The checkpoint provides an opportunity for rally staff to see the riders and evaluate how they are doing. Usually, a ragged rider just needs a shower and 6 to 8 hours of good sleep. The last rider in was #17 Mike Riley at 8:27pm. Going back for his lost flag cost him 270 points. Scoring went very quickly and Jeff excused most of the scorers by 9:15. The riders should get a good, long sleep tonight thanks to an abundance of qualified volunteers.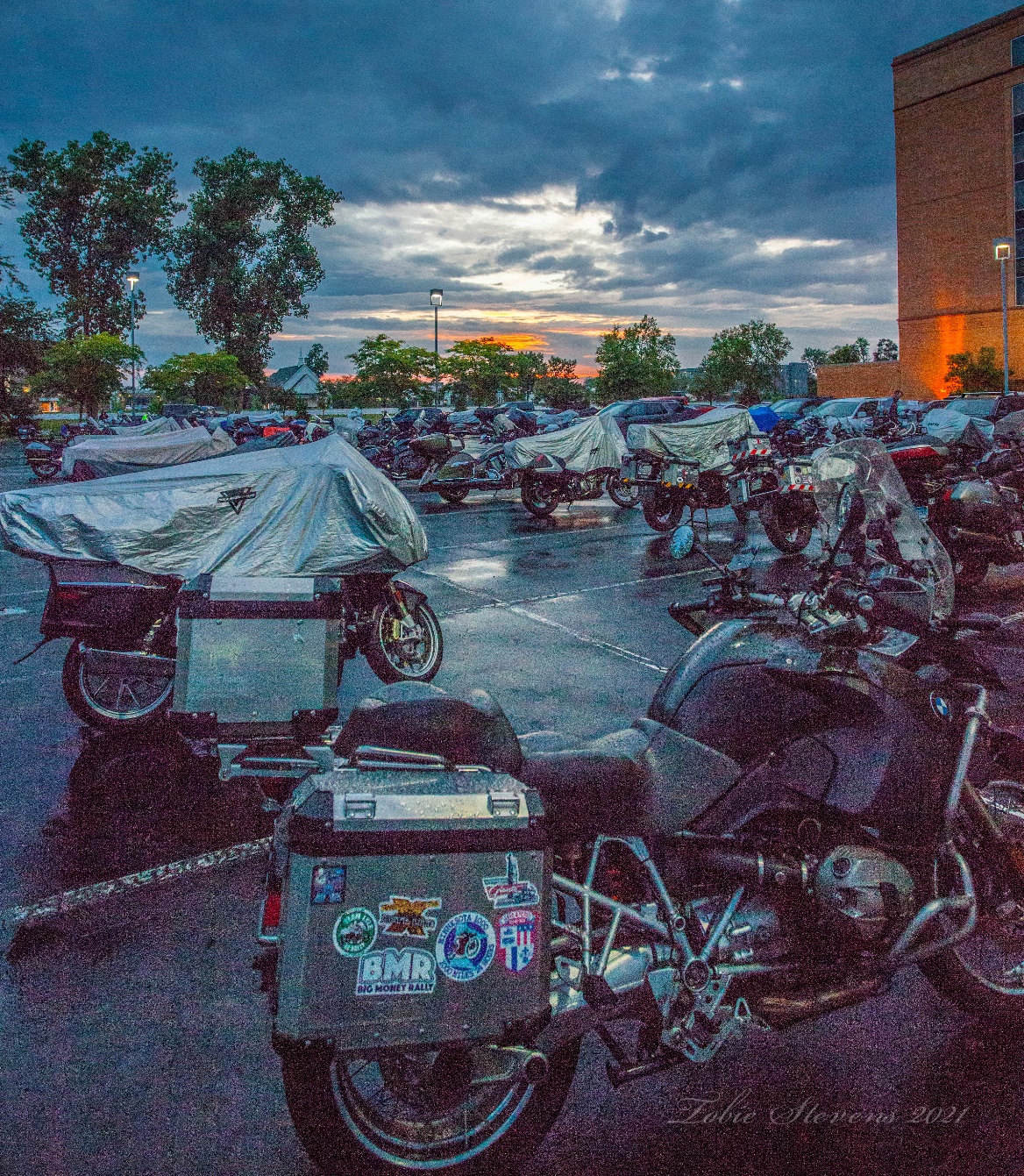 Meanwhile, time marches on and as I sit here writing this the weather channel is forecasting some wet weather for the next several days here in the Midwest back through Kansas.† Not to let the southern states off the hook, there is rain there also just not as severe.† I do not know where their next bonuses will land but I am betting that our moderate weather pattern is over, just as our riders head out on Leg 2.