2021 IBR – Day 7
 Tonka Tough
Another checkpoint draws near, and things are still eerily quiet here at Rally Central. The current leg was punctuated yesterday with a rest bonus of 4-8 hours worth a whopping 10 points per minute. Keep your shoes and socks on… that is 4,800 points. Throw in another 1,000 for properly using your tracker and another 1,000 for taking the time to call in (and actually include all the required information). That's almost 7,000 points you just can't afford to miss, yet you would be AMAZED by the mistakes riders make even before riding 4,500 miles through rain, sleet, and dark of night. As a scorer, it is very difficult to sit face-to-face with a ragged rider and have to say, "you did not get the tracking bonus because you forgot to restart your tracker on day 6 and missed a whole day."
On Leg 2, after subtracting the max of 8 hours for the rest bonus from our 65 available hours, there are around 57 hours left for riding. At an average rally rate of about 52 mph that's about 3,000 miles. What have our valiant riders been doing with this valuable time? They diverged in two directions once again. Rallymaster Jeff has constructed a rally or three and he knows how to split a group. Big bonus to the left (west), several big bonuses to the right (east); done, and it's beer-thirty!
Jeff stuck an incredibly tempting bonus far to the west of ANYTHING else, up near the twin cities in Minnesota, and it was a timed bonus. As a matter of fact, we have pictures from that bonus.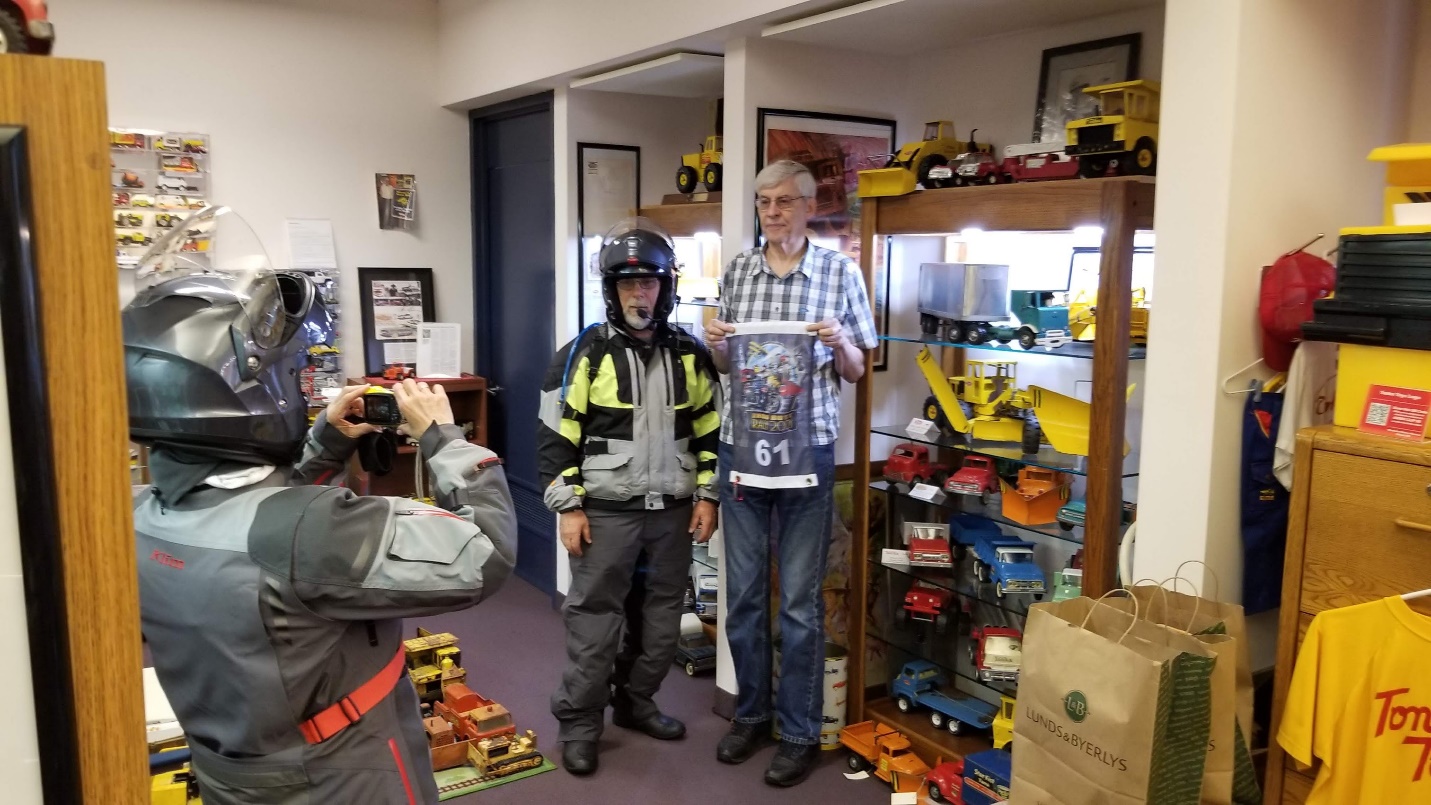 Russell and Cathy Neal scoop up the leg's biggest prize – code name TONKA (duh)
These were not the only riders to grab this bonus. Our fearless 2-stroker Michael Boge on his little pony made it through the wet front hanging over northern Illinois and slogged his way up there on time. We have pictures of him playing with toys but we're saving them for a time when it's really embarrassing. Other riders also made the trek northwest. You'll be able to see who they were when Leg 2 scores are reported here. It was a tough ride to get up there in the rain. If you had travelled through that area on leg 1 and used up those rallywide bonuses, there weren't many other bonuses to add to this whopper, making it a costly choice.
In the Northeast it was a completely different picture (literally). Yesterday's flash report showed the 28 riders who showed up for the Erie Canal group photo bonus. Not the big turnout we had at the Golden Spike because there were so many bonuses in that area that riders apparently decided it was better to keep rolling. The canal bonus had significant points but may not have fit most riders' plans. I count as many points in NY as there were in the big Minnesota bonus. Also on the east swing is a whopper of a combo bonus. It's a rallywide bonus, so a rider might have already gotten some or all of it. This east route looked to be mostly clear of bad weather, but it was a difficult ride with MANY stops. It required a ride up through Ohio to the Great Lakes and along Lake Erie to New York and across upstate New York to the Albany area. Many of the riders added a flourish with the bonuses in the very northeast corner of the country. Then just follow I-95 south to the Carolinas. That's easy to say but I would rather be caned than ride the I-95 corridor; I would rather eat glass than ride the I-95 corridor; I would…  you get my point. Once again, that is where the points are so that's where riders must go. Before they leave the Carolinas to traverse the Smokies, most will make the obligatory stop at Kitty Hawk (must always send them to the Outer Banks as per tradition). We might need to pull in massage therapists to treat the scorers. With all the bonuses on this route it is going to be a long night for them.
The smart scorer will look at the spot tracks and grab riders who went to the Northwest, with approximately one bonus to score. I shouldn't be so harsh; those Northwest riders will have other bonus opportunities. It's only 600 miles to the Twin cities from Carmel and about 900 miles from there to Huntsville so the riders have time to snag some other bonuses. They might surprise us (I'm in the surprise camp). I just roughed in that eastern swing, and it looks to be about 2,800 miles or so. Two and a half days, 2,800 miles, nobody said it was going to be easy, and then there's the I-95 corridor. A nice little rainstorm to wash my bike and playing with Tonka toys followed by a leisurely stroll back down through Illinois and Kentucky, sounds rather good to me right now. It will be interesting to see how the riders are faring when they show up later today.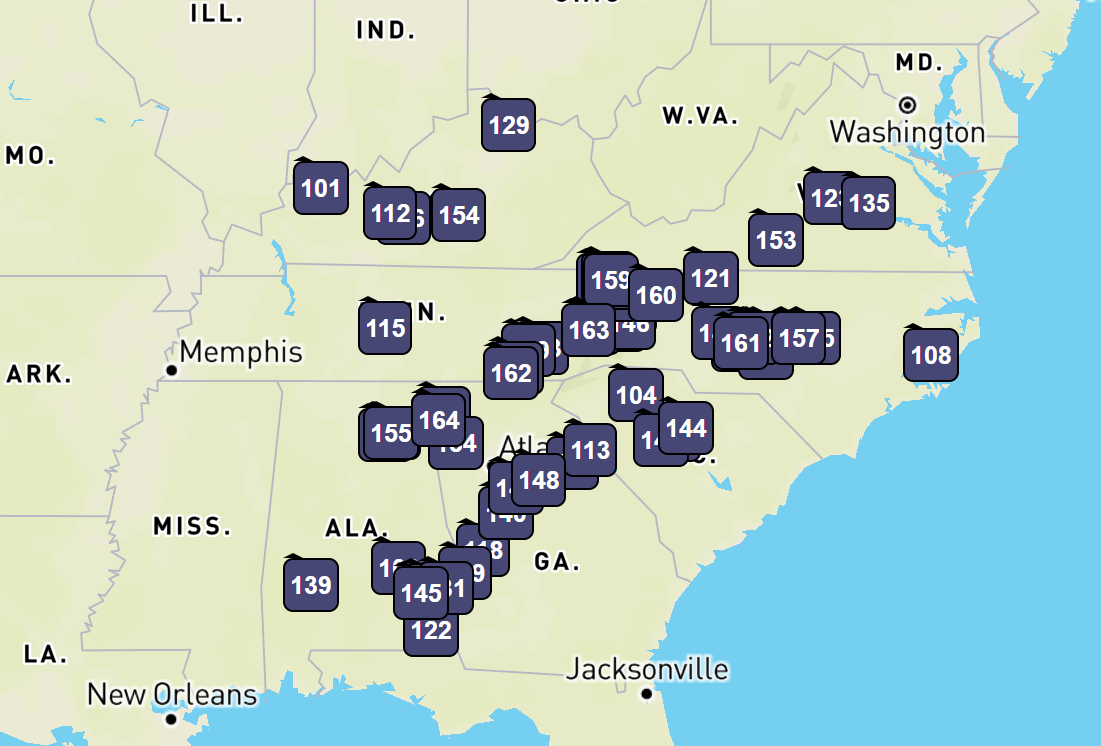 Rider locations approximately 8 hours before the checkpoint opens in Huntsville, Alabama
Rally staff have been plunking along preparing for their arrival and scoring. Jeff and Lisa handle most of the planning, decisions, and surprises. In every city, Lisa plays Post-Pandemic Whack-a-Mole at severely understaffed hotels that are not ready for prime time after a year's hiatus. With riders and staff to take care of, she uses all her tricks to get what they need. Jeff was spent after spending all night Thursday scoring, then driving the rally van 400 miles to Huntsville on Friday, perhaps trying to relive his rally days. Then there's the normal stress of being a Rallymaster: for 11 days Jeff is in labor giving birth to his baby. He delights as riders find his special treasures, tell him places they want to revisit later, and play with Tonka toys again. It is a labor of love and rewarding for Lisa, Jeff, and the rest of the staff.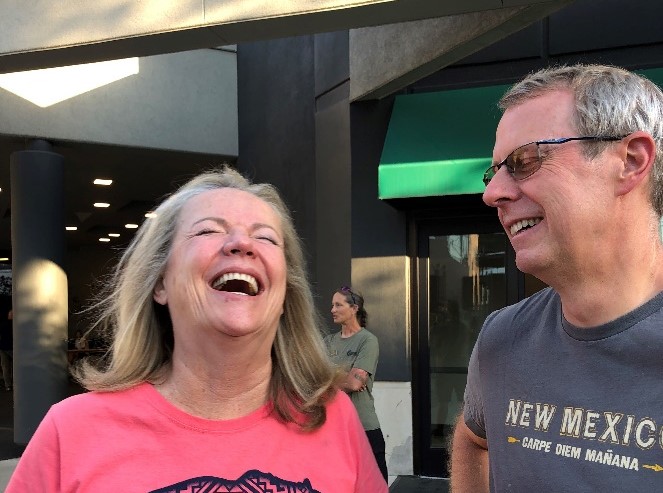 Lisa Landry and Jeff Earls … Sometimes all you can do is laugh.