IBR veteran Art Garvin posted the largest change in position on with a solid 35,013-point Leg 2, vaulting him from the bottom of the pack at 65th after Leg 1 to 32nd. Fellow veterans Steve Snell and Jim Burriss had similar Leg 2 performances and were rewarded for it. First-time rider Gerry Arel shook off the Leg one nerves and started to find his pace with a 31,606-point Leg 2 which moved him from 69th to 48th.
Of course, riders cannot move up in the standings without others dropping. Jim Owen only lost one place in the standings but when you're standing on the mountaintop, that first step can be a long way down. I will tell you that at the 4:00 am Leg 3 rider meeting Jim seemed to be wearing a new suit of determination, having been overtaken. Mike Brooke outscored Jim Owen on Leg 2 with 50,498 points to Jim's 47,319. While both scores are huge compared to the rest of the field, that 3,179-point difference is bigger than it looks. Both riders cleaned up everything in their path, but Mike saw a few things differently and leapt over Jim to claim the lead spot.
The riders who had the largest position gains spent all their time in the northeast scooping up bonuses like a toy Tonka excavator. In contrast, the riders who took a chance on the 14,050-point bonus in Mound, Minnesota (code: TONKA) either dropped in position or stayed about the same (except Dan Simmonds who had nowhere to go but up after Leg 1). 2019 IBR winner Wendy Crockett was in 5th place after Leg 1 and looked to make a move after her tire troubles on the first day. She put down big miles in tough conditions in her typical fashion, riding from Indiana to the Outer Banks of North Carolina before turning around to hit the tight time window in Mound, Minnesota. Her choice of big miles for a pair of huge bonuses vs. more bonuses with smaller miles and points didn't work out in her favor. She dropped 10 positions to 15th at the end of Leg 2. The Iron Butt Rally: it can be a cruel master. When I spotted Wendy at the checkpoint, I wanted to ask how she was doing but decided against it. Sometimes intense competitors just need to right their ship alone.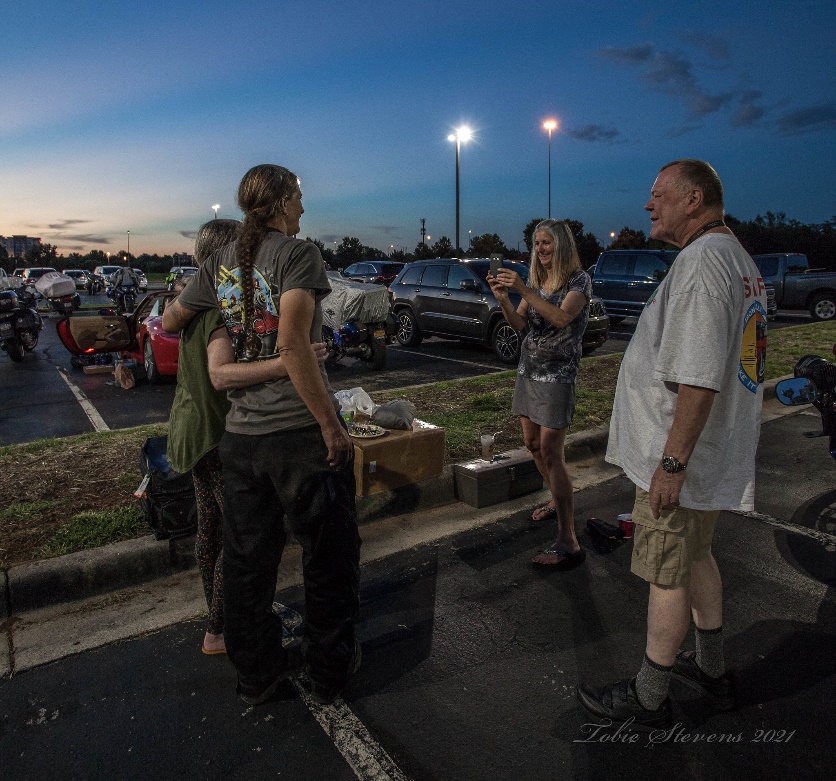 Wendy still has time for fans – even on a bad day.
But where there is sadness there is also joy and satisfaction. Veteran Eric Bray did not over-extend on Leg 1, saving energy for a solid Leg 2. Eric moved from 12th place to 7th with a 3rd-highest leg score of 45,709 points. Eric looked a bit on the worn side during scoring (but still better than me on a good day). Two days ago, I made a note in my book that veteran Kirsten Talken-Spaulding seemed more organized than at the start in Provo. She has apparently hit her stride, jumping from 22nd place to 10th.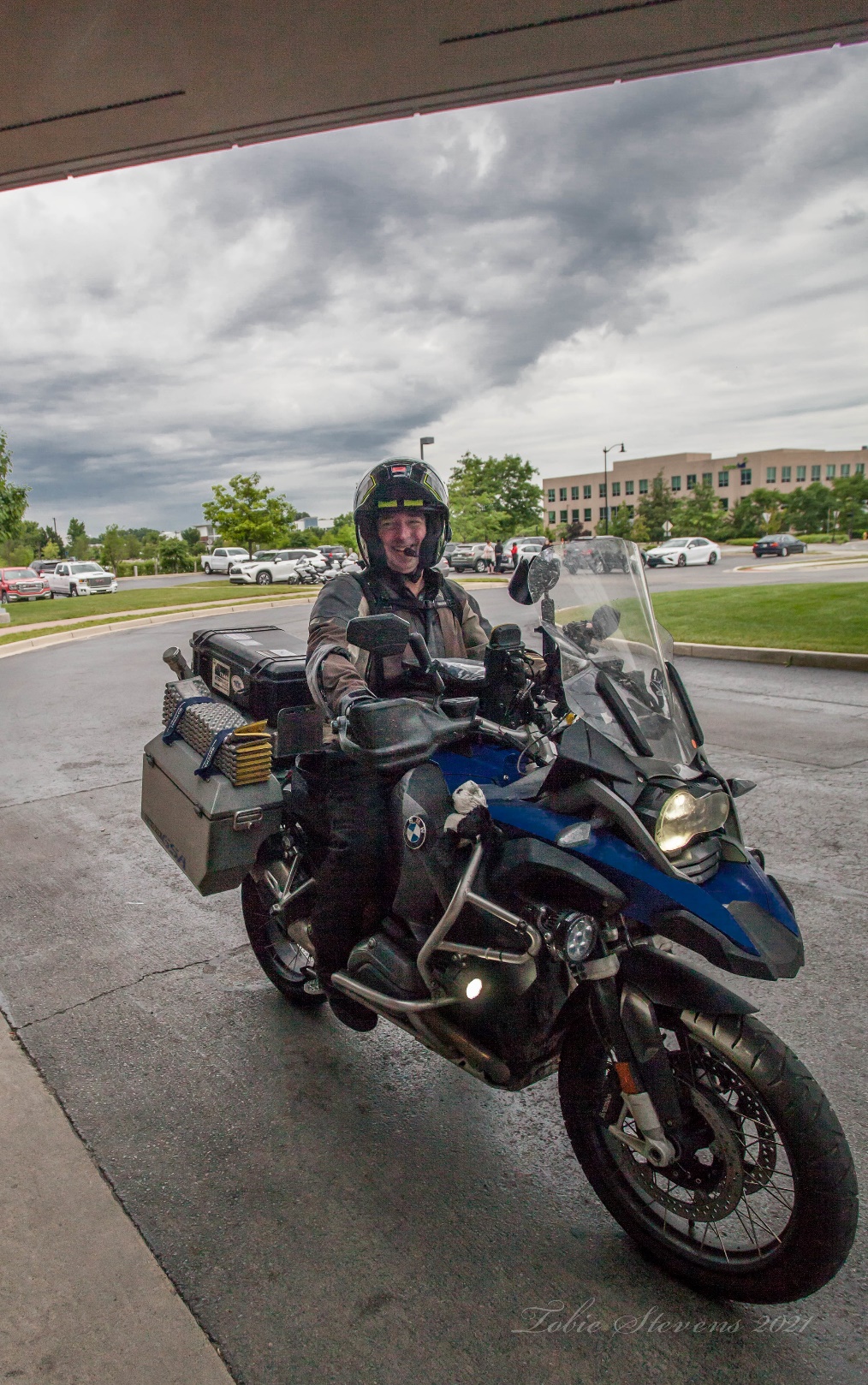 Eric Bray all smiles as usual.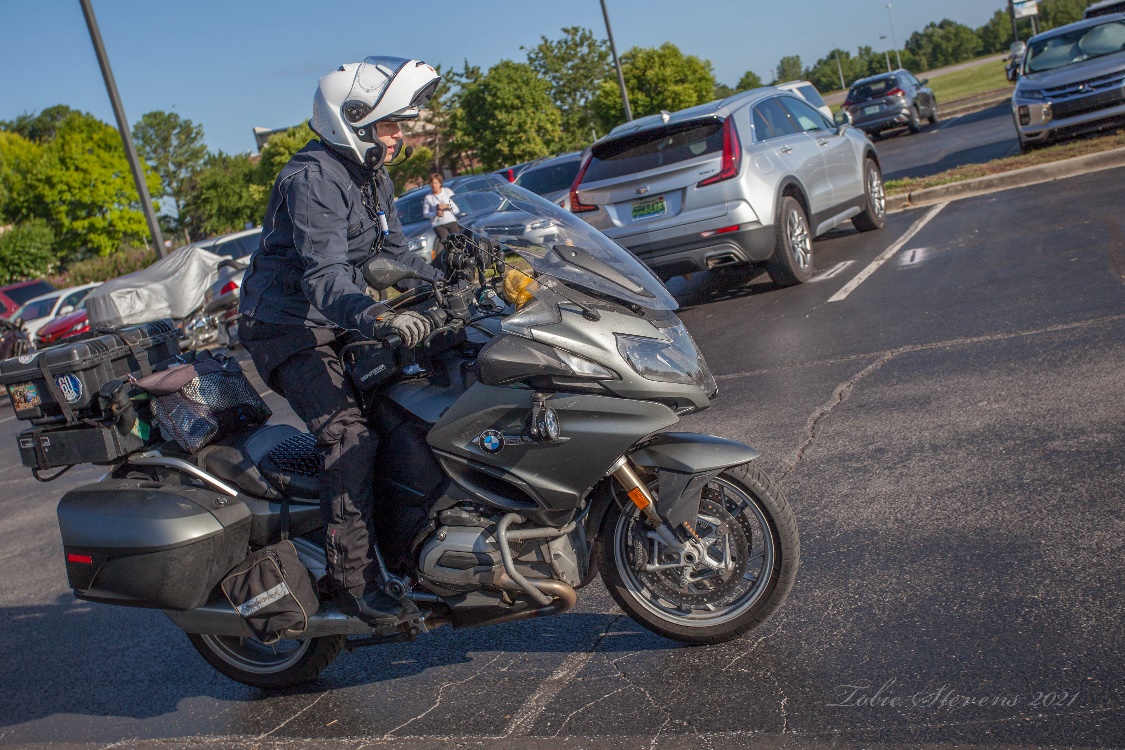 Kirsten Talken-Spaulding (KTS) maneuvering through the parking lot.
Bob Lilley is lurking quietly out there. An experienced and relentless competitor, Bob, who rose from 13th place to 8th, might be just getting some juices flowing, which can only mean trouble for the other leaders. 
Bob Lilly throwing kisses to the onlookers.
Also really stepping up his game, in 32nd place after ending Leg 1 in 65th, is long-time veteran Art Garvin. He found new life on Leg 2 but looked like he needed some serious down time.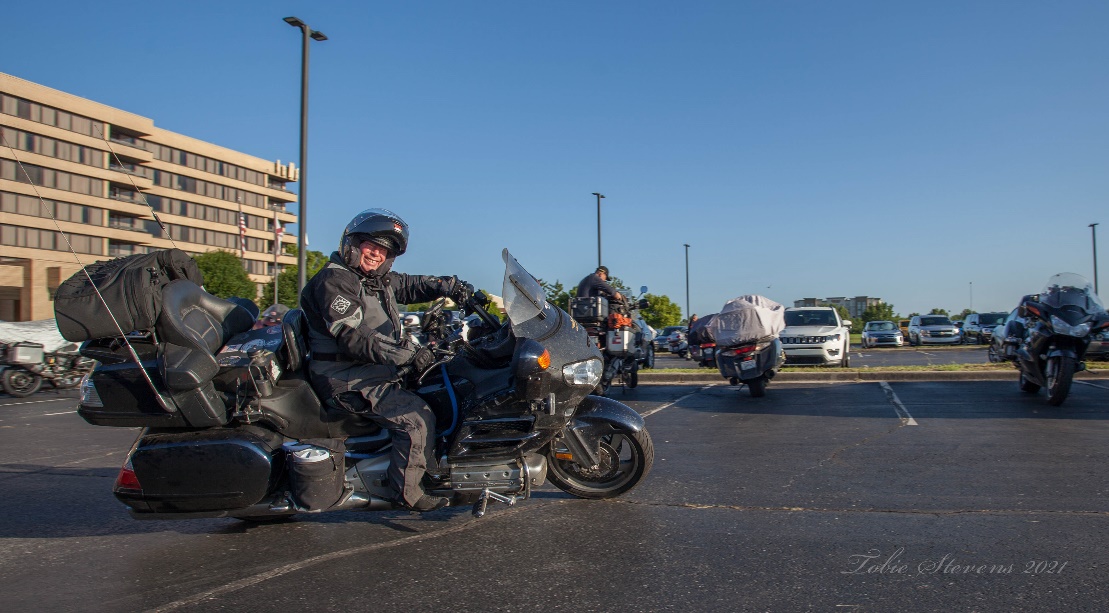 Art Garvin out for Leg 3
Jim Burriss, the scribe-appointed "nicest guy", had a huge Leg 2 and was all smiles and strawberries at the checkpoint after moving from 64th place to 40th. The smell of home cooking can really bring out the best in a rider and many of these riders honed their skills in eastern rallies like Cape Fear and the Void.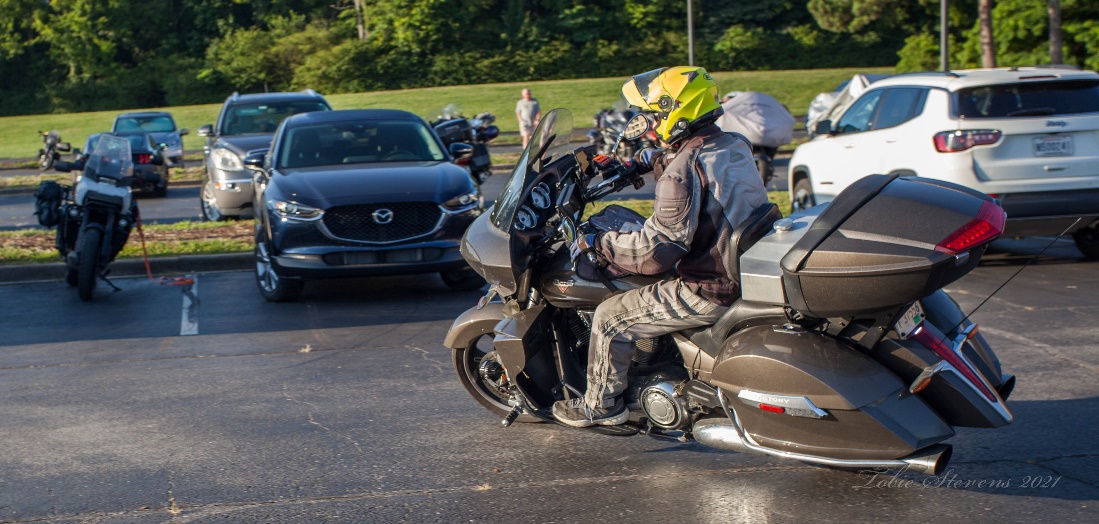 Jim Burress running his third IBR on the same Victory Cross Country.
That local knowledge can be especially helpful in the east where it pays to be comfortable on confined city streets, to know the best ways to get around bottlenecks or even just the proper way to "get directions" out of a New York pedestrian. In the third leg, the rally shifts westward, where mountains are more than 4,000 ft high, a traffic jam might be just a single pilot car, and the heat will fry an egg on pavement. 
First out of the gate this morning was Ken Aman, followed by Ben Ernst and Steve Giffin. Ken and Steve have run nearly identical rallies and are only 100 miles and 1,500 points apart in the standings.  Ben, Steve, and Michael Brooke are all IBR rookies making a bid for a podium finish but there are nearly 4 long days left and the field is tight. Riders are in position, quietly setting their plans in stone. Moving Day is over and Championship Sunday is dawning on the IBR.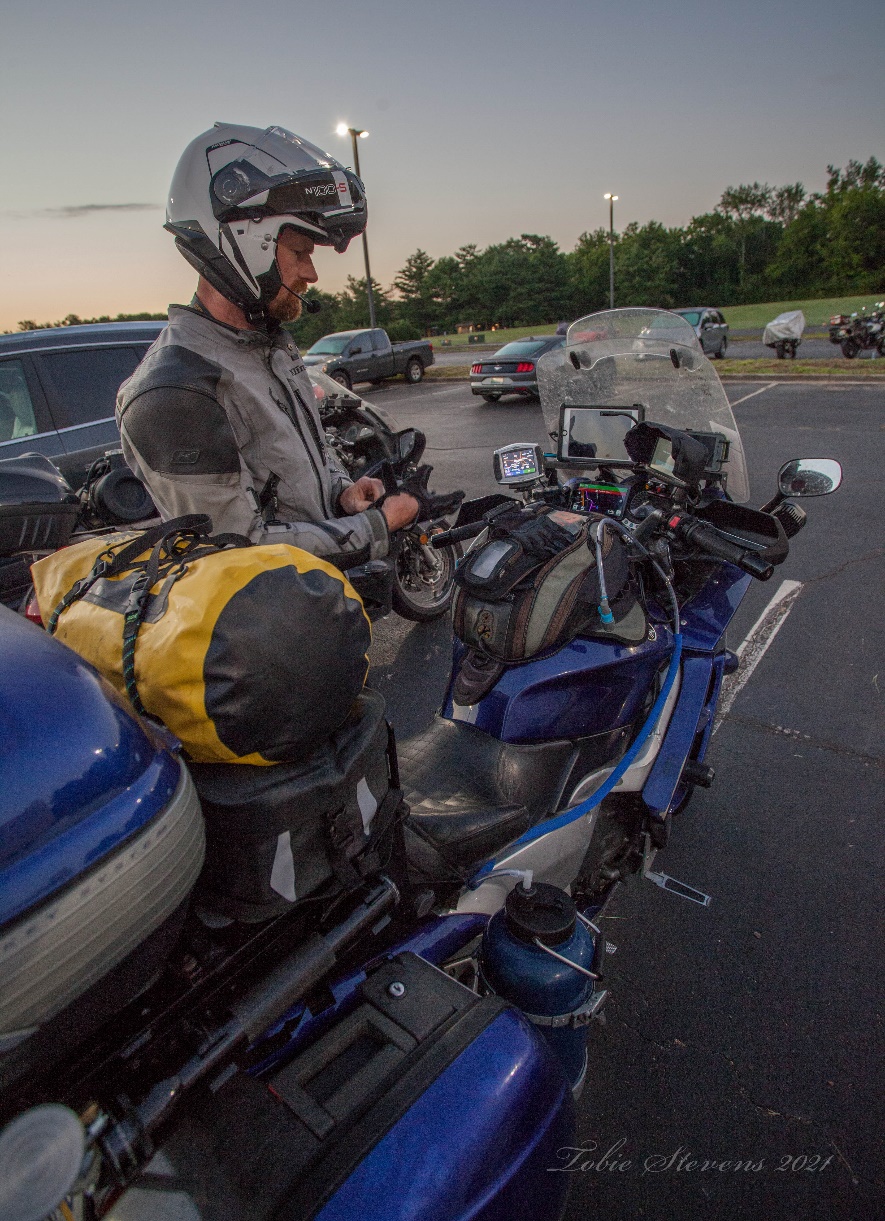 Steve Giffen has come on strong.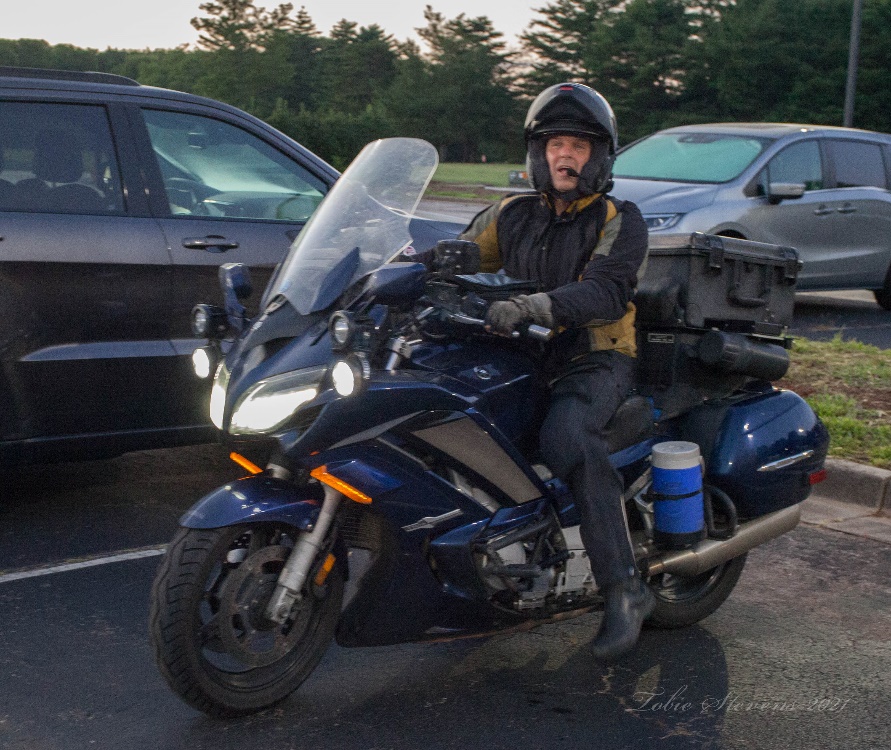 Ken Aman, first out of the lot for Leg 3.